Chingolo
My friend, Mohawk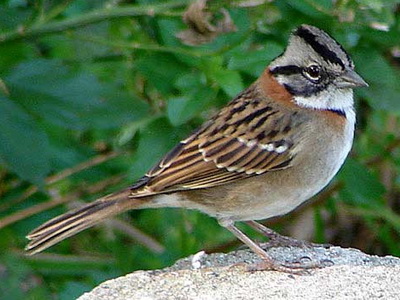 Mohawk first came to my attention when I went to see his group, "Zonotrichia Capensis". They were playing at the Aviary in downtown Guayaquil, visiting from their usual territory in Isla de la Plata. He's a hell of a singer, being able to trill notes like nothing I've every heard. And his stage presence? Well he can hop with the best of them. I instantly wanted to get to know more about this strange singer, but I was to be thwarted for quite some time.

When I first approached Mohawk, there in the club, he simply flew away. I don't think it was from me, per se, because the entire audience had flocked to the stage to get to know this mysterious stranger. But he simply fled.

It wasn't until three weeks later when I spotted him near the river that I got my chance to meet him. "Hello," I lied, as soon as I was in earshot. "I won't hurt you."

"How can I be sure?" he asked.

"You can never be sure, but if we simply sit quietly with each other for a few months, I'm sure you'll grow used to me."

"I remain skeptical, but if you want to hang around in a comatose state, who am I to argue?"

I instantly went into a coma, probably as a result of a post-hypnotic suggestion contained in Mohawk's music. It was the best year of my life.


Next up - Soy una especie de escéptico Bitcoin.