Christmas 2010 Silverbells
This was the first one I recorded, and then made a rough mix for my producer (Linda). As she pointed out, it was way too slow, so I went back to change the tempo on the sequences, but the keyboard had not retained them on power-off because its battery was dead. So I set about to replace the battery, which I discovered was soldered into the main board. Luckily I can solder, so I replaced the dead battery with a jury-rigged battery holder/battery combination that seems to be working quite well. Except that I had to go back and record the track from scratch.


Christmas 2010 Deck The Halls
Linda recorded the piano on this one and I added the drums later. You can't really hear it, but I was thinking about "My Sharona" for the middle section with the "deck the halls" chant. I tried to get Linda to shout it out with me, but she had butterflies.


Christmas 2010 Coming To Town
This one was put together using the WK-500, which had a couple of usable accompaniments. The trick was getting the changes smooth, since you could only do the whole song, not in pieces. Once you get that done, though, the rest is just a walk in the park. Santa Claus is Coming to Town thus becomes a bubbly little number, with a carefree feel and no particular intrinsic value.


Coventry Carol
The third song on the xmas CD is our version of the Coventry Carol. Linda was kind enough to record this one on the SQ-2 and we both chose the various voices to replace the piano. One soprano sax improvisation later, and we had this one in the can.


Music Tool
People have been asking lately what equipment we use to produce the songs. Here goes.
My keyboard of choice is the Ensoniq SQ-2, which was manufactured in 1990. I have owned four or five over the years. It makes use of sampled waveforms, and thus performs somewhat like a sampler, with many realistic acoustic sounds. It also has an on-board sequencer, which takes some getting use to, but when learned, provides all the functions necessary to edit performances, right down to individual notes. The quantizing (correcting performances to conform to rhythm) is excellent and versatile. The keyboard itself, while not weighted like a real piano, has a good firm touch and is quite easy to play.
Once I have recorded basic tracks such as bass and drums (which the SQ-2 does very nicely) I can add a few accompanying parts and then begin copying the basic sequence, so I can edit each copy to provide for variety, and then place all the copies in an order that makes sense. This becomes the basis for the song, which I then record into Steinberg's Cubasis program on a computer. This is where I begin to overdub any acoustic parts, such as saxophone and hand-held percussion. Cubasis is an excellent program for this purpose and also allows for automated mix-downs, meaning you can mix each track separately and the program will remember these mixes and combine them all when you export the song. You can export the final mix-down into a variety of file formats, including MP3.
As far as the inspiration for the songs goes, if it's going to be an original I simply sit down to the keyboard and start playing. Soon I'll have come up with something I can use. At this point, whether it is original or cover, I begin to use my experience to give the song a sense of style or purpose. Sometimes I succeed.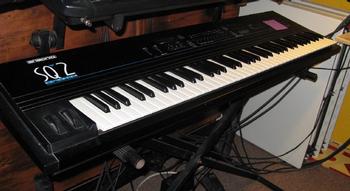 Xmas Tree
The second song on the 2010 christmas CD is xmastree. This one is supposed to emulate a marching band, though of course it is much too repetitious and synthy to do a proper job of that. Nonetheless, it does destroy the song nicely, which is the whole idea.


Christmas 2010 Frosty
This year for christmas presents, among other things, Linda and I put together a collection of our own fractured carols. I'm familiar only with using an Ensoniq SQ-2 for a workstation, so that's what we used. I had to replace the backup battery first thing, which was a bit of a challenge, since the unit doesn't have a battery holder, but instead has a battery soldered in. Thank good I can solder. My poor SQ-2 performed admirably up to the first nine songs, and then it became unstable and will now require repair. Luckily, there is still one man left who can do the work.




Here's the first song on the finished CD,

frosty

. After the SQ-2 died, I purchased a Casio WK-500 at Target and used it to finish this track and one other. On this track I simply used the stock accompaniment with only a tiny bit of playing along to lay down the basic track. My soprano is a Cannonball that Linda bought for me several years ago. She put the percussion on this one (egg, jingle bells).




The Top Half Percent
When I was younger I had a moderately successful career as a musician. I came from a musical family who insisted that I learn to play and sing. So, from the time I was eight years old, part of each day consisted of practicing an instrument (it became clear early on that I wouldn't be much of a singer). In high school I was all nerd, even though I was in the school's jazz band and was studying music theory. But as I began to look around I noticed that the nerds were not getting the girls, so I joined a blues band that some friends had put together. By the time I was in my mid twenties I had come to realize that success, for musicians, was largely limited to the most successful half percent. Which is being hugely optimistic. The artists who are bitching about piracy these days are among these happy few. Seldom do you hear about Joe the Harmonica Player lambasting his fans (both of them) for stealing his recordings, which don't exist. Now, the internet is following this trend, where the successes seem to be limited to the ones who came first and got luckiest, not necessarily the ones who are best. If you choose to be a musician, or an entrepreneur, you should expect to fail, from a business perspective. On the other hand, you can't beat the experiences you'll have. And you'll certainly be popular with the girls.



What I Hear
OK, for starters, here's my new email address: miles at txspt dot com.

Next, take a gander at www.anythingwillhelp.com which has a link to this.


Weekend in SF
We're just back from a fun-filled weekend in Mountain View where we caught a concert and hung out in a neat hotel (they provided a slinky). The show was GREAT and I thought I'd quote the following article which described the band's performance of the previous evening. By the way, Carter Beauford really is THAT good.

Dave Matthews Band sharp at Shoreline GROUP SOUNDING, PLAYING BETTER THAN EVER By Jim Harrington MediaNews

It's odd to think of a two-night stand at Shoreline Amphitheatre as downsizing for a rock act.

Yet, that's exactly what it was for the Dave Matthews Band when it visited the 22,000-capacity Mountain View venue on this past Friday and Saturday nights. That's because the last two times through the Bay Area DMB performed at even bigger venues -- drawing some 50,000 fans to a free show at Golden Gate Park in 2004 and then performing two nights at AT&T Park last year.

Equally odd was that one could see green on the Shoreline lawn --enough green to build a few new duplexes -- as the band took the stage on Friday. That was not only a sign of DMB's dip in popularity as a live act, especially from a few years back when it could sell out multiple nights at football stadiums, but a clear example of the general downturn in overall concert attendance. Even the biggest acts in the concert industry, of which DMB certainly qualifies as one, are having a hard time filling places like Shoreline to capacity.

Issues of popularity aside, the Dave Matthews Band is currently sounding and playing better than at any other time during its 17-year career. Grab a recording of Friday's show -- which shouldn't be hard to find, since DMB still allows fans to tape its concerts -- and then compare it to, say, the band's ``Live Trax Vol. 4,' which chronicles a 1996 concert in Virginia. You might have a hard time believing that both sets come from the same band -- the sound is now so much fuller and the songs are vastly more powerful than 10 years ago.

That's what, ideally, is supposed to happen to a group: It's supposed to get better. That hasn't happened with most bands that first made it big in the early '90s. Yet, DMB has continually found new ways to improve its game in the live arena.

Following an opening set by pedal-steel guitar guru Robert Randolph and his Family Band, Matthews and his sidemen -- bassist Stefan Lessard, saxophonist Leroi Moore, violinist Boyd Tinsley, drummer Carter Beauford, keyboardist Butch Taylor and guest trumpeter Rashawn Ross -- took the stage in a decidedly casual fashion. Dressed in a simple hooded sweatshirt and worn blue jeans, the vocalist-guitarist strolled to the front of the stage and applauded the crowd. The fans returned the gesture a thousandfold.

Although DMB's fan base isn't as large as it was earlier in the decade, it remains one of the most passionate in all of rock 'n'roll. Take, for instance, Tracey Borowski of Newport Beach, who was experiencing her seventh DMB show in two weeks on Friday night.

``I'm a real fan,' Borowski said.

The crowd was full of real fans, who seemingly knew every word to every song and sang along with gusto as the band opened the show with a mellow, friendly version of ``Everyday' and then cranked up the intensity for ``Big Eyed Fish.'

The group sounded great -- led, as per usual, by Beauford, who continues to make the case that he deserves to be ranked among the finest drummers in rock history.

As the band moved through sensational versions of ``Bartender' and ``If I Had It All,' it was easy to see how a drum junkie would come to DMB just to watch Beauford play, much like how a guitar freak would go see Tom Petty and the Heartbreakers to stare at Mike Campbell. Eschewing all of the over-the-top theatrics that one normally associates with A-list rock drummers -- hello, Tommy Lee! -- Beauford always finds a way to shine within the framework of each song. He's the kind of drummer that a jazz cat would appreciate.

Matthews proved to be a very versatile singer on this night. He showed an amazing degree of sensitivity as he cradled such gentle ballads as ``Loving Wings' and ``Stolen Away On 55th and 3rd.' Then, like some switch was flipped on, he sang like a madman just escaped from an institution as he brought tangible drama and passion to``Bartender' and ``Hunger for the Great Light,' which might be the best song currently in the band's rotation.

The singer ranks as one of the greatest screamers in rock, following in the fabled footprints of the likes of Roger Daltrey and Janis Joplin, and fans simply can't get enough of it.

``I love it when he screams at us. I think that's the hottest thing. It turns me on,' said Borowski, who works as a professional dog walker when she's not following DMB around the country. ``I don't need a boyfriend when I have him singing to me.'

Following big versions of the fan favorites ``Dancing Nancies' and``What Would You Say,' Matthews invited Randolph back to the stage and the pedal-steel great helped the band close the main set with asmoking version of ``Louisiana Bayou.' DMB would return for a stellar two-song encore of ``So Right' and ``Stay (Wasting Time).'

When it was all said and done, the band had been on stage for nearly three hours. Yet, it felt much shorter than that and the crowd was left wanting even more. Bet that a good portion of these fans would be back on Saturday night for another dose of the Dave Matthews Band.

And, really, who can blame them?


My Mic
Back in the day, when I used to do a lot of recording in real studios, I fell in love with the sound of a certain Sennheiser microphone. Nowadays you can get anything on ebay, so I did a search and waited a few weeks and managed to find one for sale. I bought it and have been pleased with the way it sounds.




It's probably the best sounding dynamic microphone there is. I recently ran across a fascinating website called Music Thing which had an article on this old, yet stylish mic.


G. Love and Special Sauce
Linda and I went to see G. Love and Special Sauce at the Ventura Theatre last night and it was very, very good. This young fellow is loaded with talent, as is the band. What an interesting combination of styles! Dobro-style guitar (G Love plays a little like Robbie Robertson), harmonica, upright bass, two! drummers, keyboards, all in service of blues, rap, jazz, southern rock, you name it. The drummers were great fun to watch, and they seemed to be sharing some kind of inside joke. My favorite was the bass player. Just a great time all around.


Steel Pulse!


Each year we attend a Steel Pulse show at the Ventura Theatre, and this year the show was particularly fun. There were plenty of friends and family with us and the band was superb. The sound was very good and the urge to dance was irresistable. I particularly loved the medley that started the show. Besides showing off a formidable catalog it also served to showcase the arranging chops of the most "interesting" reggae band on the planet. Reggae has long been known for its staid, if not boring, approach to arrangement, where the beat never changes and the individual parts seldom do. Steel Pulse, on the other hand, are past masters of the intentional lurch; at times the music virually stops, as if in error, only to launch fabulously into some new energy and tempo. Delicious! The show was attended primarily by youngsters who seemed to love the band as much as those of us who have been around since their inception. Looking forward to next year!


Using Cubasis
I've been using Cubasis for Music recording since I began recording digitally. It can be a tricky program to use and set up and today I've run into a fresh problem. I'm exporting a song as MP3 and creating a file, no problem, but when I try to play the MP3 there is no sound. Even though the file is over 5 megs, Media Player shows no information. Media Player will play other files without problem, even one I exported from Cubasis a few days ago. The next step is to change the outside lines (where the piece begins and ends) and then there is no problem exporting. The snippet plays fine. The next time I export the whole song it works without a problem. Oh, well. Anyway, I've added the song Snort to the Downloads.


Auditory Illusions
I've been preparing to finish off some old tunes and I've been rediscovering some parts that aren't what they appear to be.

Long a fan of the term psychoacoustics I've recently found that what I've been hearing is actually an auditory illusion that I haven't seen described elsewhere, as yet. What happens is that there is a line that is quite complete and logical, or so it sounds, because it's actually missing a couple of notes in the sequence. However, my brain just fills in the blanks so the melodic line sounds whole. I'll be throwing some other things like that in the mix, and I'll be uploading the tune as an attachment to this post, as soon as I've finished it.


Klangfarbenmelodie
I've got an idea for a new piece I want to record and it harkens back to my days at The Creative Music Studio and the study of Klangfarbenmelodie.

I intend to do a repetitive line on sax that suggests a nice resolution, but the sax doesn't go there, instead that last note is played, each time, by a differnt instrument or timbre.